The Best World Clockfor Mac
World ClockMeeting PlannerCalendar
World Clock
The Clock 3 has been crafted with care, and deliver everything you could expect from an advanced and beautiful World Clock app. You can even add Complications, like Time Zone Offset, Sunrises and Sunsets, Yesterday/Today, and more... You can adjust the color theme. Really personalize your experience. The Clock make working easier.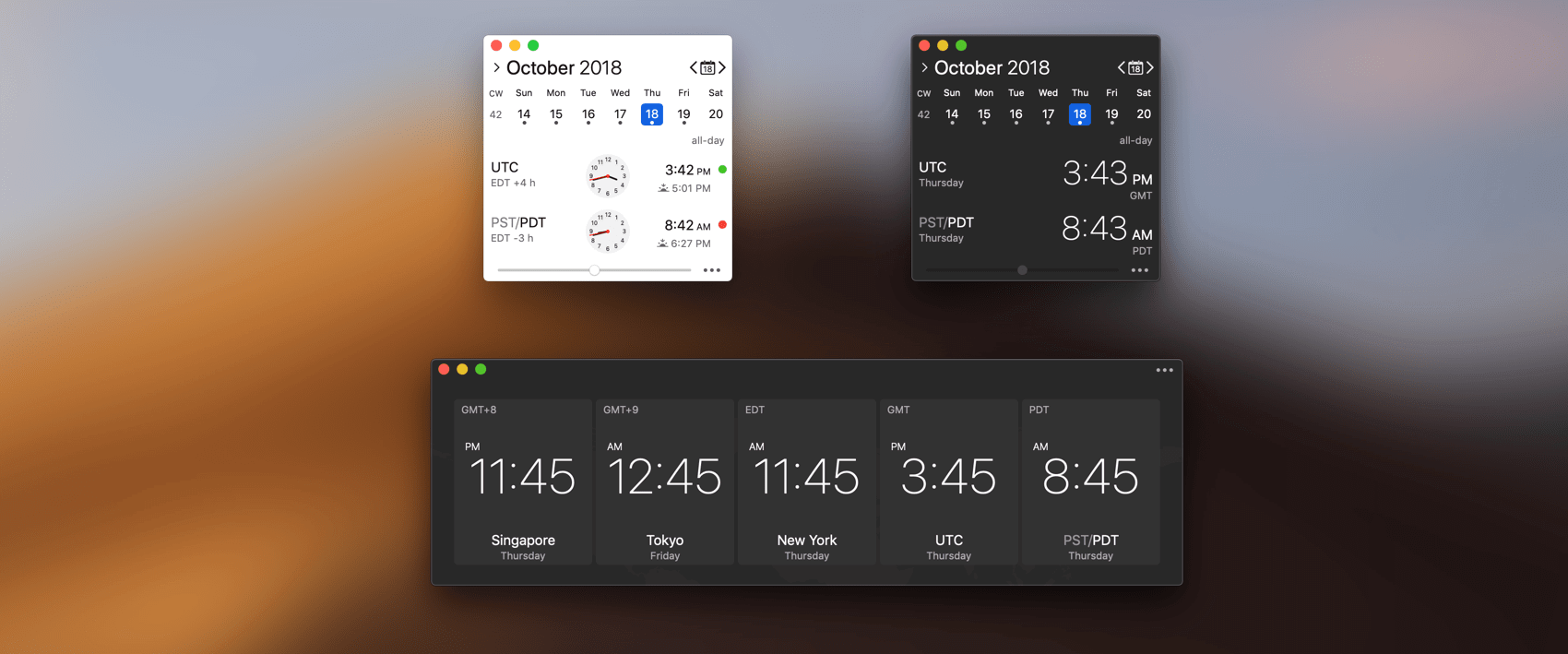 Complications
Time Offset
See the time difference from you to other cities.
Today/Yesterday.
See the day of other cities compared to you.
Time Zone Offset
See the time difference from a timezone to other cities.
Business Hours
Follow the working hours and holidays of all your contacts.
Sunrise/Sunset
See when day turns into night, and vice versa.
Calendar
Get a quick look at what's next on your daily schedule.
Meeting Planner
The Meeting Planner Slider let you navigate through time. But this is just the beginning. You can move the slider with a swipe gesture above your world clock. The time is automatically rounded to 15min/30min. Activate the Business Hours complication, and know immediately if your contact is at the office. Select a date in the calendar, and The Clock move through time, and all the Daylight Saving are automatically updated... and more. And once you have finalized the time for your meeting... Just copy the information to your email!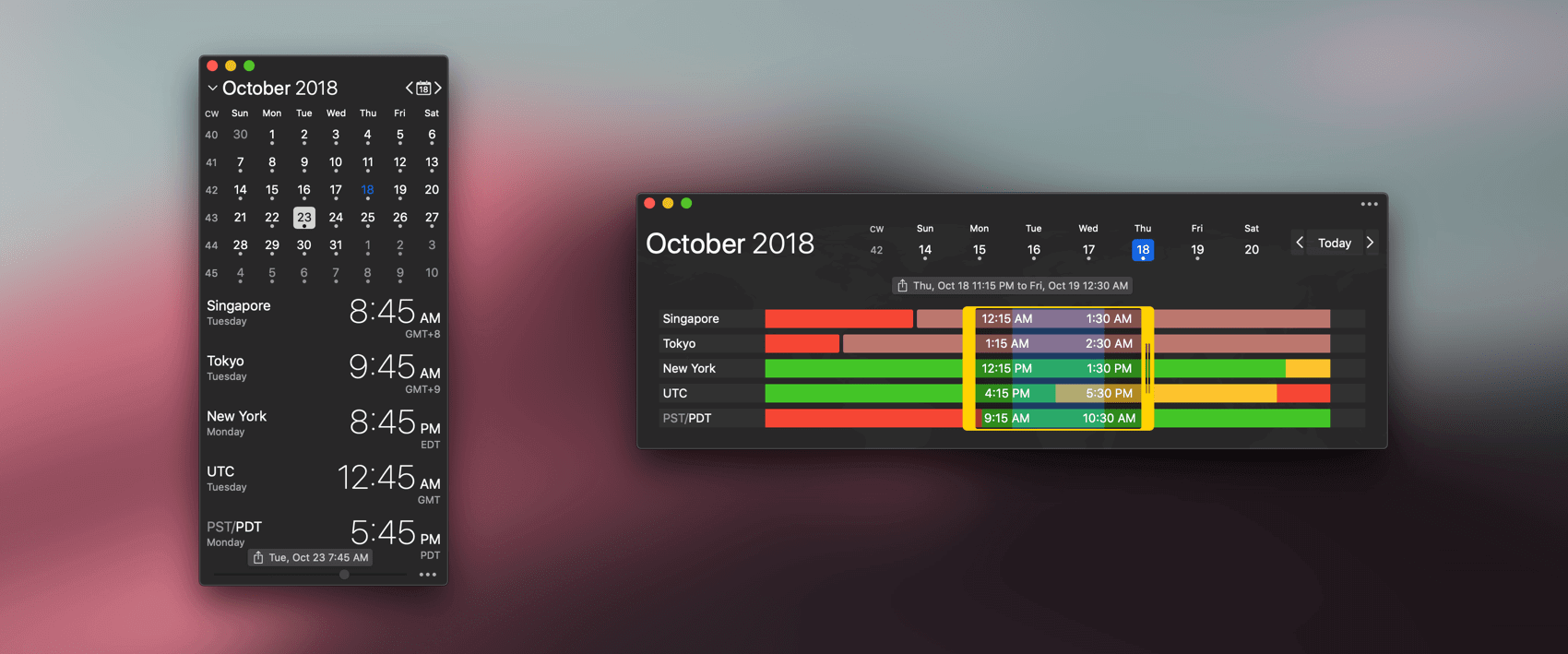 Calendar
Use the Calendar to have a quick look on a date, or a calendar week. Navigate the months with buttons, keyboard shortcuts, trackpad. Highlight the days off of a city. While using the Meeting Planner, travel through time, and all The Clock Complications are automatically updated for the selected date. And now since The Clock 3, you can integrate The Clock calendar with the system Calendar. Have a quick look at your schedule, meetings, events, birthdays... And you can add a Calendar complication, and be immediately informed of your next events. Or you can hide the calendar ;)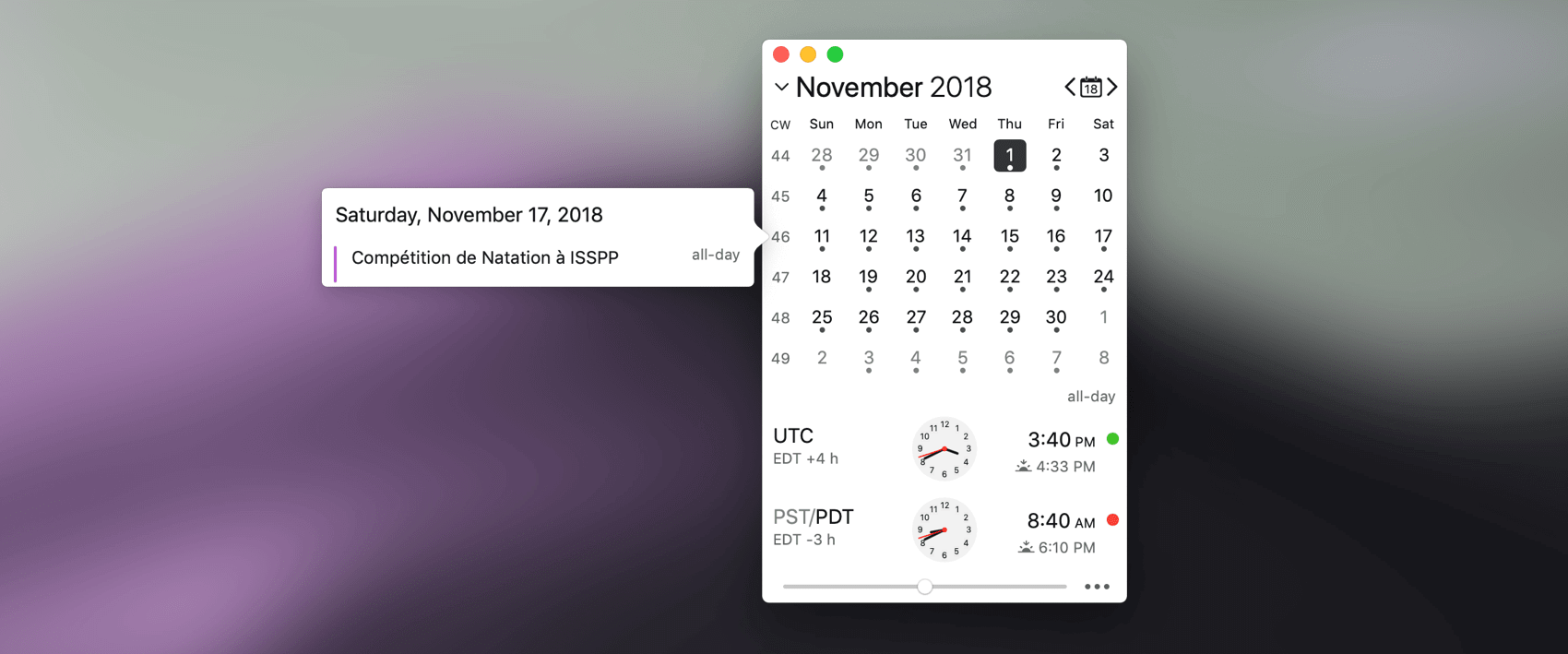 Menu bar
The Clock offers plenty of options to display the information you need in the menu bar. One option is to use an icon. An icon for a date or for a week, the moon phase, a break timer. Of course the order in your menu bar of these items should be personalized. The Clock let you simply [Shift] Drag and Drop the items from the menu bar in the order you wish. It's That Simple!
More features
The Clock can be used as a simple and beautiful world clock. Or can be used as full professional solution. You can fine tune the time format per city, you can define your own working hours for your contact, rename cities, define holidays for your contacts, or just look at the sunrises/sunsets... Of course you can discover all these options by your self, or you can use the real user manual included! You can read it from your Mac, or from your iPad, or iPhone. Thanks to the Handoff feature of Yosemite and El Capitan.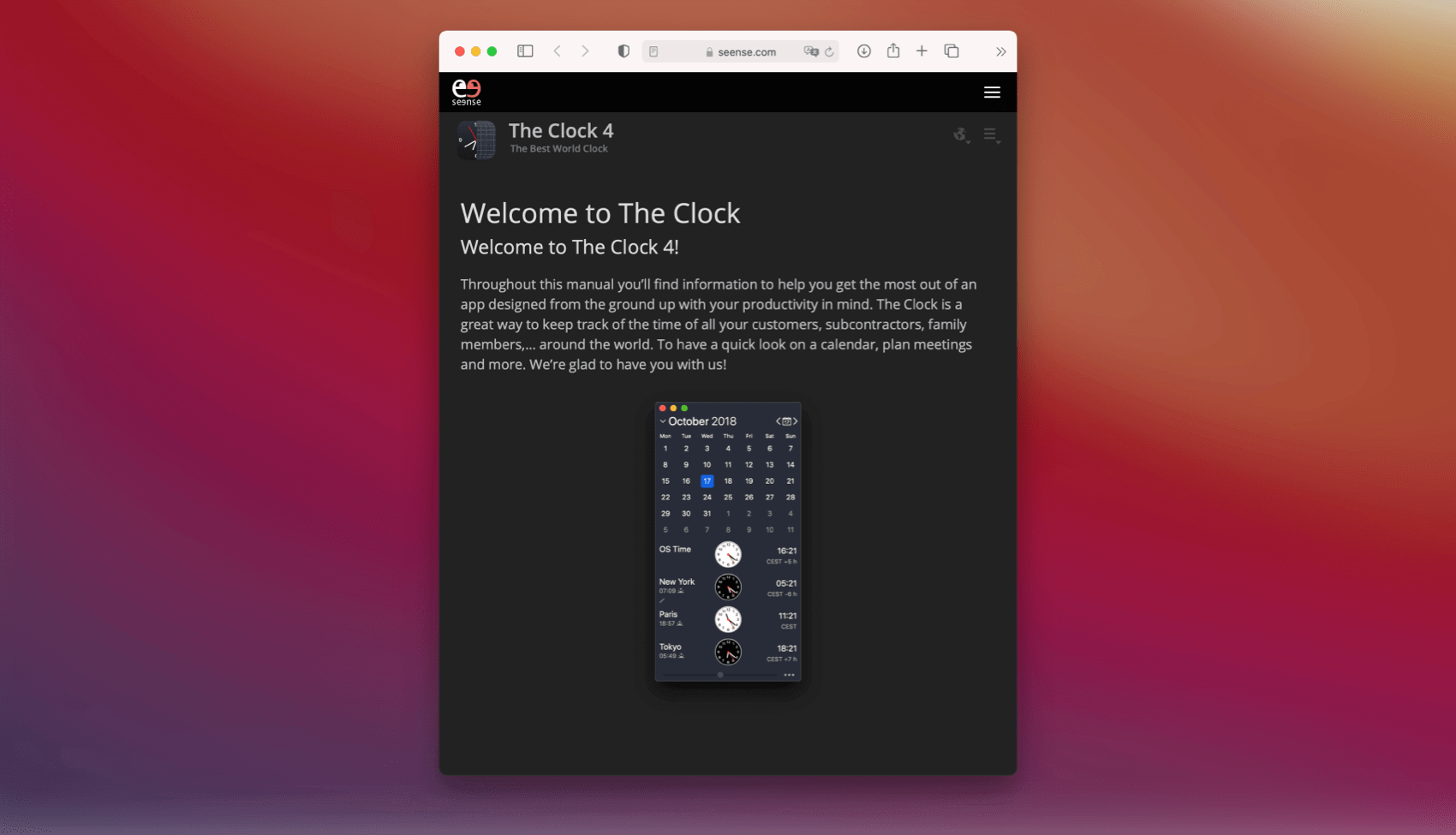 Testimonial
4 Years of free & wonderful updates. What our customers say about The Clock?
I've used this app for a couple of years now, with many international trips and working on projects that have multiple international project teams ... It's the best app I've found for OSX.
Mac App Store - USA - December 2014
I've been using The Clock for ~8 months I think. It's amazing ... Keep it coming!
Mac App Store - USA - March 2014
Simple! I use it everyday! Brilliant!
Mac App Store - United Kingdom - March 2014
Business
The Clock 3 for your company
You are working for a company, or CEO of a company. You would like to have a customized version of The Clock for your employees, with your branding.
contact seense for more details.
For you
You may be interested in
seense Newsletter
Once in a while I'll notify you about seense upcoming app releases, beta testing opportunities, and other relevant news and information.